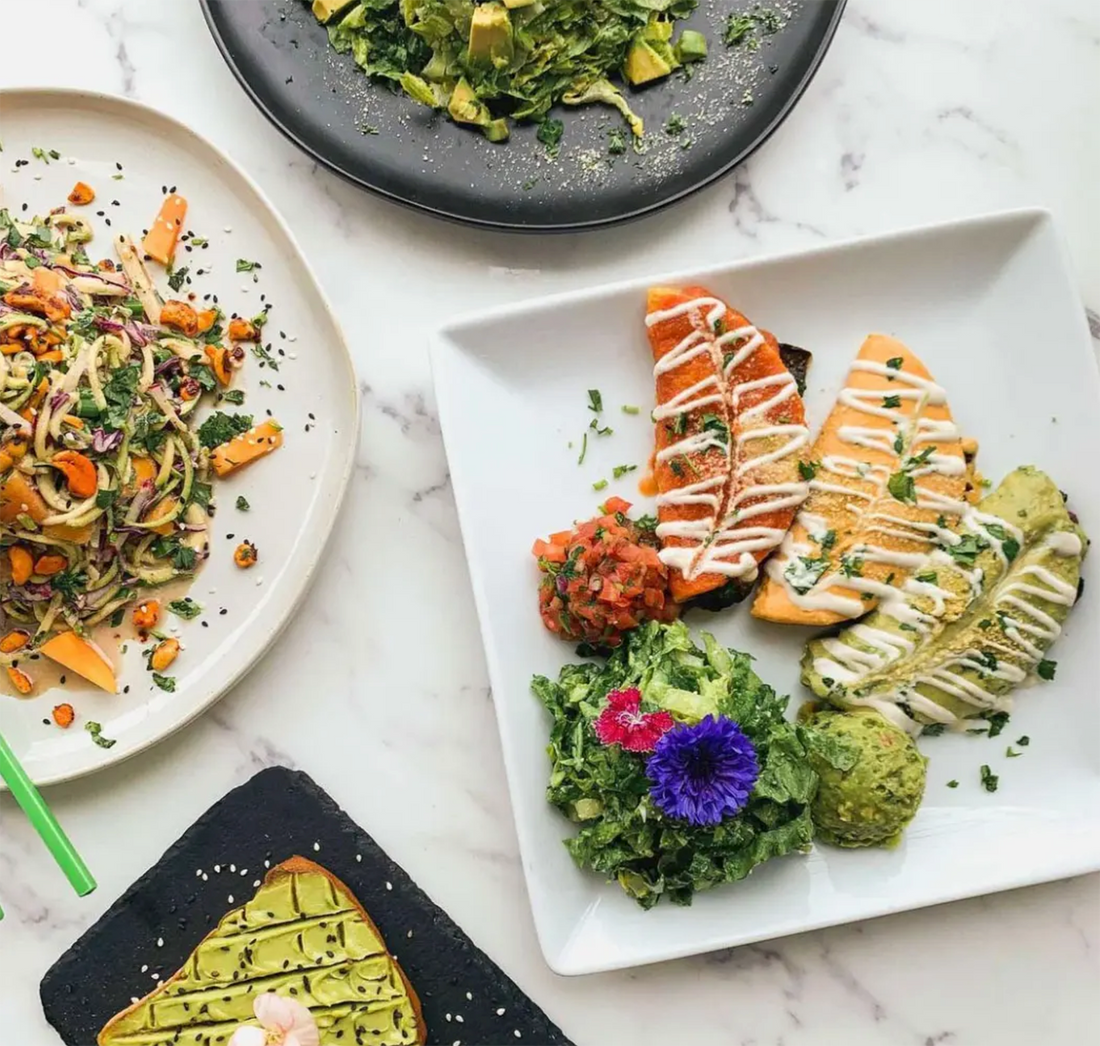 Pure Lunch Premium Protein Lunch Catering Package (10 people)
Choice of 2 entrees, serves 10 people. You choose an entree in Option 1 and in Option 2. 
Add ons are Chocolate Ganache with Raspberry or Pumpkin Ice Cream pie
You can order online and pick up at our Brookside location.
CHOICE OPTIONS
Queso Enchiladas
black + pinto beans rolled in corn tortilla with mexican rice, topped with queso, pico de gallo, guacamole
Augi's Quesadillas
veggies + mushrooms sautéed with mexican spices in griddled corn tortilla, topped with 3 sauces: green chile, romesco, queso, pico de gallo, guacamole
Spaghetti Bolognese
sautéed zucchini noodles, vegan bolognese sauce, topped with house-made parmesan, fresh basil
Mexican Buddha Bowl
simple salad base, spanish rice, pinto + black bean, spinach, avocado, purple cabbage, corn, red bell pepper, pico de gallo, pickled onion, lime, queso
Thai Buddha Bowl
simple salad base, coconut jasmine rice, garbanzo bean, spinach, crunchy chili cashews, purple cabbage, red bell pepper, avocado, cucumber, carrot, pickled onion, lime, sesame seed, almond chili sauce
Green Dragon Sushi Roll
avocado, spinach, red pepper, carrot, zucchini, purple cabbage, crunchy chili cashews, rolled in english cucumber, almond chili sauce
Farmers Salad
chopped simple salad, spinach, red bell pepper, carrot, zucchini, purple cabbage, cherry tomato tossed in house made dressing, house-made parmesan
Pad Thai
zucchini noodles tossed with crunchy chili cashews, green onion, papaya, jicama, purple cabbage, radish, black + white sesame seeds, fresh cilantro, almond chili sauce - served chilled
Plant Based Tacos
black + pinto beans, queso, simple salad, avocado, pico de gallo, sour dream, corn tortilla